We love talking about design and construction. We are always excited about developing new courses that support designers in becoming more confident and creative. What are you interested in learning? Reach out and let us know!
SGLA Technical Training
825 Delaware Street

Berkeley, CA 94710
About the Instructor
Sarah Gronquist earned her MLA at UMass Amherst in 1997 and has been a practicing licensed landscape architect in California since 2001. She currently provides construction documentation and project management through Thuilot Associates, a Berkeley-based landscape design firm that works with commercial and private residential clients.
She was an early adopter of the BayFriendly Rating System in 2009, and now serves on the Board of Directors for ReScape California, a non-profit organization that educates about and advocates for a whole-systems approach to landscaping that works in harmony with the natural world and addresses the changing environment. As a ReScape Rater, she serves as a third-party reviewer for California landscape projects seeking to meet high standards for sustainability.
As an instructor, Sarah has developed and taught college-level course content for many Bay Area institutions, including Merritt College, Academy of Art University, UC Berkeley and UC Extension. She has long been interested in technical issues related to grading, construction detailing, and stormwater management. She has also taught planting design studios, professional practice, and business courses for landscape designers and contractors.
In her spare time she plays swing guitar, accordion, and whatever else is lying around the house.
Other Contributors
Thanks to our hand models, Spence Koehler and Monica Marathy, and our favorite scale figure and putting instructor, Christopher T Palmer. Our website was designed by Sara Glaser Arts.  Maura Baldwin and Bridget Ash helped with the great AIT redrafting project of 2022. 
This list would not be complete without mentioning Ray Freeman and Cheryl Corson, whose generous sharing of their educational development work makes this all possible.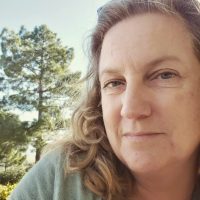 "It takes at least 10 years to develop a comprehensive understanding of design and construction as an apprentice working from start to finish on typical multi-year projects. You can enjoy the process more (and even accelerate your progress) by learning from experienced professionals and peers in a relaxed setting."
—Sarah Gronquist